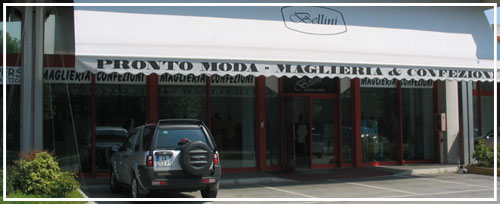 THE FIRM BELLINI GIORGIO S.N.C. IS PRESENT IN THE NATIONAL AND FOREIGN MARKET FROM 1970 OPERATING IN THE SECTOR OF THE COMMERCE I THICKEN KNITWEAR, WRAPPINGS AND JACKETS.

BEEN BORN WITH GIORGIO AND ALBERTA THE FIRM ARRIVA Á. THE SECOND GENERATION WITH ELEONORA AND LEONARDO WHICH DEVELOPMENT OF A CONTINUITY' OPERATIONAL THAT INTEGRATES TRADITIONAL VALUES AND INNOVATIVE STRATEGIES OF MARKETING!

MARRYING THE PHILOSOPHY OF THE READY WEEKLY FASHION, THE FIRM OFFERS A CONTINUOUS IT IS RENEWED ASSORTMENT OF PRODUCTS MADE IN ITALY TURNED TO A FEMALE CLIENTELE WITH SIZE FROM THE 42 TO THE 60.

THE PRUDENCE IN THE CHOICE OF THE QUALITY' OF THE FABRICS IT IS OF THE FINISHES IT CHARACTERIZES THE HEADS FROM US PROPOSED Á. THE GOAL TO ANSWER IN WAY SUITABLE. THE DEMANDS OF MARKET.

PRICE IS COURTESY IS' OUR SIGHT TICKET!!